I've cooked chicken wings quite a few different ways searching for the best method. Frying is the worst method; accounting for the messy oil (which I have since eliminated), the expense of ghee for frying (even if you make it yourself), and the extra calories I don't need, no chicken wing in my house will be fried.
The grill does a decent job. I'd dry the wings and toss with smoked salt, then fire up a charcoal grill (using lump charcoal, not those fake briquette things). There were two main issues with this method. First, the drippings from the wings as the fat rendered caused flare-ups in the grill, which singed some wings too much. Second, there was nowhere for steam to escape the skin, so as the fat rendered, the skin came off a bit on the soggy side, no matter how many different techniques I tried.
I wanted crunchy skin on my chicken wings — crispy enough to handle plenty of buffalo sauce without withering. I turned to the oven. At first, I simply tossed them in the smoke salt, then put them on a wire rack over a rimmed baking sheet and roasted them. I obtained crispier skin, but still ended up with too much rendered fat dripping and smoking up the oven.
The breakthrough came from a recipe in The Chicken Bible–a brand new (2021) release from America's Test Kitchen. (I swear I don't work for or with them; they're just great chefs and food chemists.) Their recipe for oven-fried chicken wings uses baking powder as the secret ingredient.
The authors mention that the main issue with chicken wings is drying out the skin without drying out the meat. Baking powder and salt help break down the proteins within the skin due to the alkalinity of the baking powder. The browning of the wings is due to the famous Maillard reaction, and is "happier" in an alkaline environment.
The other challenge is to crisp the skin without over-drying the meat. There's not as much meat to work with on chicken wings, so it seems like these goals are in conflict. ATK solves this problem by cooking the wings in a low-temperature oven for a while (still on a wire rack set in a baking sheet to keep air circulating under the wings) to cook the chicken partway, then raising the temperature to roast the skin and crisp it all up.
The baking powder helps with liquid retention as well, so you won't lose tons of juicy drippings.
Oven-fried Chicken Wings (Serves 4)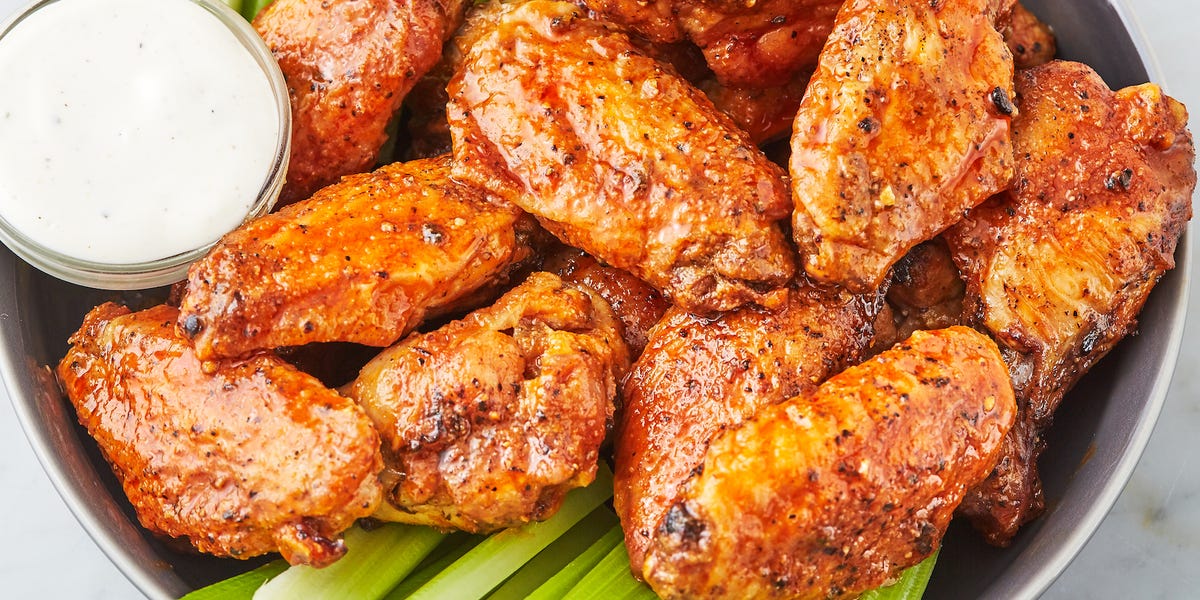 Ingredients
4 lbs. chicken wings
2 tbsp baking powder
3/4 tsp salt
Your favorite wing sauce. (See note at the bottom.)
Instructions
Adjust oven racks to upper middle and lower middle positions and preheat to 250F.
Line a rimmed (this is important) baking sheet with foil and set a wire rack in it. (I recommend spraying the rack with cooking spray.)
Pat the wings very dry with paper towels, then put in a 1 gallon zipper plastic bag.
Combine baking powder and salt, then add to the gallon bag and toss well. Make sure all the wings are well coated.
Arrange wings (skin side up) in a single layer on the wire rack. Try to let them have space if you can.
Bake wings on the lower middle oven rack for 30 minutes.
Move the wings to the upper middle rack, increase the temperature to 425F.
Roast until the wings are crispy, about 45 minutes. Rotate the sheet halfway through to ensure even cooking, especially if your oven has hot spots. Most do.
Once finished, let the wings stand for about 5 minutes.
Toss the wings in your favorite sauce and chow down.
Notes
I love Frank's Buffalo Sauce with my wings. I think the bottle is just as good as homemade. If you're more of a lemon-pepper wing fan, melt a stick of butter with a healthy helping (to taste) of dried lemon peel and cracked black pepper. If you get high quality dried lemon peel, you will find that you don't need a ton to get that sharp citrus flavor.
Don't hesitate to email us at [email protected] for personalized coaching and a client questionnaire if you'd like DEDICATED tailor-made personal training on strength training, building muscle, losing fat, developing athleticism, and more — all to your liking, lifestyle, habits, and taste!
Otherwise, don't forget to claim your FREE eBook detailing how to lose 20lb of fat while building muscle in 12 weeks! You can claim it here.
Alternatively, you can pick up a FREE eBook on fundamental strength principles offering an introductory workout program.