On April 11, Georgian super heavyweight Lasha Talakhadze, known as Lasha worldwide, snatched 222 kilograms for a world record and by performing a clean and jerk with 263 kilograms, reached a world record total of 485kg at the 2021 European Weightlifting Championship held in Moscow, Russia.
And at the European Weightlifting Championships held in Moscow over the weekend, Georgian super-heavyweight phenom Lasha Talakhadze set two new world records on his way to winning three gold medals. Georgian weightlifters won a total of eight gold, four silver and one bronze medal in the competitions.
The new snatch and total are two and one kilograms over the 26-year old's previous world records, respectively, according to BarBend. Gor Minasyan of Armenia came in second with a career-best total of 464kg, below Lasha's 485 kg.
Talakhadze's Amazing Feat of Strength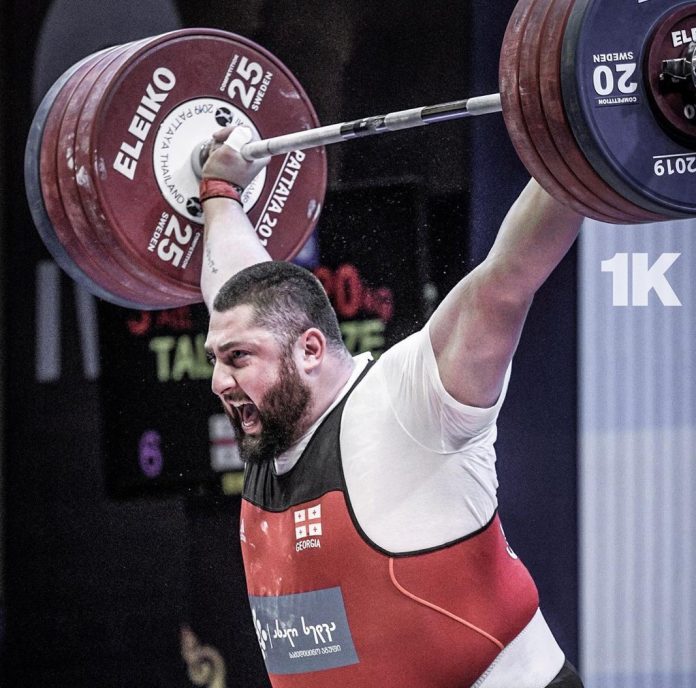 Fitness Volt reported: "Now that this record is official, Talakhadze is undeniably recognized as one of, if not the best of all time when it comes to the snatch. This was the heaviest of all time in competition, and surpassed the world record that he previous held by 2kg."
How To Deadlift Over 600lb Completely Drug Free
Lasha is now a five-time European Weightlifting Champion and 2016 Olympic gold medalist
He is considered to be the favorite to take the gold at +109 kilograms at the 2020 Summer Olympic Games in Tokyo.
Lasha's heaviest record to date was actually on March 23, when he snatched 223 kilograms:
Video Here.
He also clean & jerked 265 kilograms, which was higher than his current record. In a May 2020 interview with Oleksiy Torokhtiy, Lasha said his goal is to surpass 500kg total:
"If I reach 500kg mark, then I will immediately have a new target of 505kg, 510kg, etc."
Lasha also said he was hoping for more competition.
"I don't want to be alone. I would also like many other athletes to be strong. It will be even better for me if I have strong competitors. It will also help to increase the popularity of the sport all over the world."
How To Squat 600lb Completely Drug Free
Lasha at the 2021 European Weightlifting Championships in Moscow
Lasha posted on Instagram after the victory
Amazingly, the world record snatch is actually lighter than Lasha's PR, scored in the training leading up the contest. In addition, he also scored a 222kg snatch in his previous contest, which took place in September last year; although the lift took place as a fourth attempt and therefore did not qualify as an official record.
Watch Lasha smash the world record (unofficially) in September 2020
As befits a nation which takes its weightlifting very seriously, Lasha Talakhadze is a national hero in Georgia. After his gold-medal performance at the 2016 Rio Olympics, he was given the President's Order of Excellence of Georgia, and he also won the country's Sportsperson of the Year title back to back in 2017 and 2018.
This latest performance has cemented Lasha Talakhadze's claim to be the greatest weightlifter of all time. And yet it's clear that he still has more in the tank, if the footage regularly posted to his Instagram profile is anything to go by.
Just how much further can he push it?
Don't hesitate to email us at [email protected] for personalized coaching and a client questionnaire if you'd like DEDICATED tailor-made personal training on strength training, building muscle, losing fat, developing athleticism, and more — all to your liking, lifestyle, habits, and taste!
Otherwise, don't forget to claim your FREE eBook detailing how to lose 20lb of fat while building muscle in 12 weeks! You can claim it here.
Alternatively, you can pick up a FREE eBook on fundamental strength principles offering an introductory workout program.