On April 21, in Tashkent, Uzbekistan, China's Lu Xiaojun broke the snatch world record to lift 174kg (383.6 pounds) and cleared 199kg (438.8 pounds) in clean and jerk to win the gold with a 373kg (822.3 pounds) total at the men's 81kg in the 2020 Asian Weightlifting Championship. 
Lu Xiaojun's World Record
The accomplishments were a gift to the popular weightlifter who lifted on his 36th birthday. Prior to his most recent accomplishments, he had become a five-time world champion. He now has over 17 medals and over 10 world titles. Lu won his first continental title 10 long years ago  and would have retired by now if Tokyo 2020 had not been delayed by the COVID-19 pandemic, according to Inside the Games.
The Golden Era Legend: Torch Fat, Build Muscle, Transform Your Body
Lu rarely gives interviews to international media, but Weightlifting House scored one with him in February 2020. In the interview, he explained his personal motivations.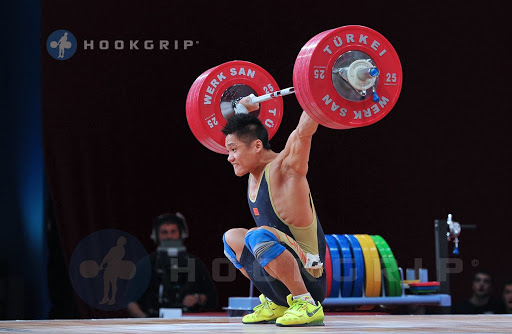 Weightlifting House asked," What has been the key to remaining the best in the world at your age (35)?"
The athlete answered:
"I would say strength was a priority when I was younger. But as I got older, especially when I hit 30, I started focusing more on the "sensation" of the techniques and how the lifts should feel. (…) And of course, the enthusiasm for weightlifting is pretty important as well. (…) My age doesn't bother me because to me it's not even a thing, it's just not in my way, it's not an obstacle."
Summer Superhero: Your Radical 12-Week Summer Program to Get In Shape Fast
On the topic of competition, he had this to say:
"Competing against one another is the only way to push yourself. If it was a one man show, it would be too boring. There would be no point for me to compete. (…) I want to give thanks to all my opponents. Having them is the reason I'm competing today. "
Don't hesitate to email us at [email protected] for personalized coaching and a client questionnaire if you'd like DEDICATED tailor-made personal training on strength training, building muscle, losing fat, developing athleticism, and more — all to your liking, lifestyle, habits, and taste!
Otherwise, don't forget to claim your FREE eBook detailing how to lose 20lb of fat while building muscle in 12 weeks! You can claim it here.
Alternatively, you can pick up a FREE eBook on fundamental strength principles offering an introductory workout program.