Sales continue to fall for plant-based meats in the US, the Financial Times reported yesterday. The new sales figures cap off a disappointing year for plant-based meat brands such as Beyond and Green Leaf, which have seen sales fail to meet expectations.
Plant-based meats: the slump continues
According to the Financial Times,
"In the four weeks to October 3, sales of plant-based meat alternatives fell 1.8 per cent compared to the year before, taking declines for 2021 to 0.6 per cent, according to the US retail data group SPINS. A surge in plant-based meat sales at the start of the pandemic in 2020 set a high hurdle for growth this year, but demand was also affected by consumers eating at home less as restrictions were lifted, while supply chain problems made some products unavailable in stores, said SPINS."
The fall is also attributed to a surge of new products which are "overwhelming consumers".
The figures from the US are important as a barometer for the fortunes of plant-based meats more generally, since the country is the world's largest market for the products.
Over the past few weeks, the biggest companies, such as Beyond Meat and Maple Leaf Foods, the Canadian group which owns the plant-based protein specialist Green Leaf, have posted poor results.
"In the past six months, unexpectedly, there has been a rapid deceleration in the category growth rates of plant-based protein," Michael McCain, Maple Leaf's chief executive, told analysts earlier this month.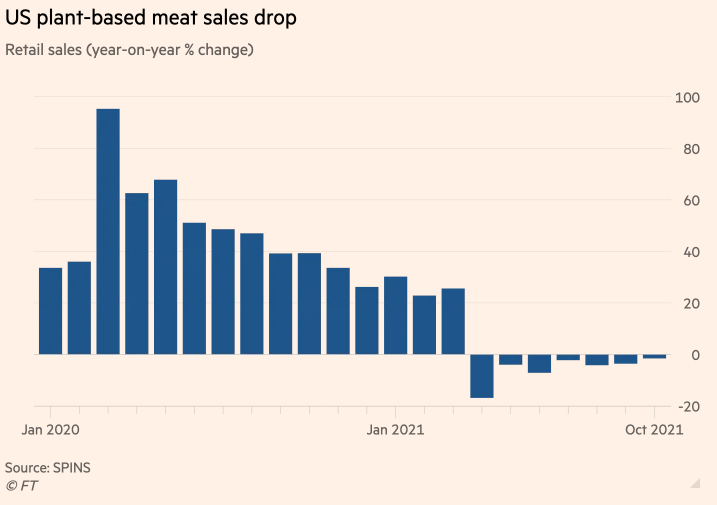 McCain blamed a 6.6% fall in sales of the company's plant-based protein on declines across a broader range of products, from refrigerated foods to retail and food services.
By contrast, Maple Leaf exceeded its revenue expectations with a 13.4% sales rise in its actual meat division.
As we reported a few weeks ago, Beyond Meat's shares have tanked since it reported disappointing third-quarter sales, which were nearly $35 million less than predicted.
We wrote:
"Beyond Meat said a number of different factors caused the lag in sales, including the impact of the new Covid-19 delta variant. The company said a Canadian distributor decreased retail orders for longer than expected as its restaurants reopened, and it had expected incremental orders that didn't materialize after one of its large customers changed distributors. In addition, the company claimed that labor shortages delayed distribution expansion and made shelf-restocking harder, further harming profits.
Operational challenges also hurt its results, Beyond Meat claimed. A Pennsylvania facility lost drinking water for two weeks and another suffered water damage to inventory after severe weather."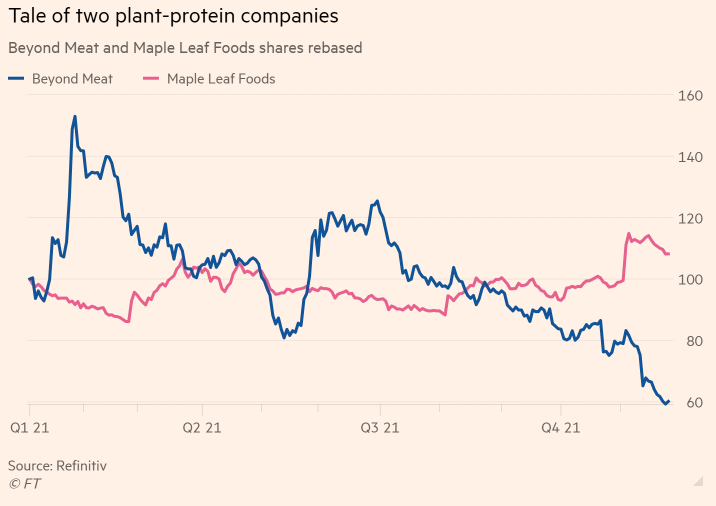 According to the Financial Times, because plant-based meats are still 30-40% more expensive than real meat, and require improvements to their taste and texture, it will be essential to increase production capacity in order to cut costs. Further research to improve the products will be essential to ensure better sales.
"Some executives believe the falling sales are temporary", the Financial Times writes. "Steven Cahillane, chief executive of Kellogg, which owns the MorningStar Farms brand of plant-based products, said the company's consumer research showed 'there's still a lot of enthusiasm and excitement" for plant-based alternatives to meat.'"
Enthusiasm? How about peer pressure, instead?
In truth, the picture is much more complicated than many would like to think, with social pressure, rather than free choice, playing an increasingly important part in the decision of many to change their diets.
Despite these strong consumer and scientific indications that plant-based meat alternatives aren't what consumers want to eat or should eat, don't expect that to stop manufacturers, retailers and governments from pushing them.
At least one study has already shown that people cannot be convinced on the basis of health and taste claims alone: it's only when social pressure is applied that take-up of plant-based meats and other plant-based alternatives really takes off.
Manufacturers are quickly becoming wise to this fact and exploiting guilt and most of all shame to sell their products. Oatly, the Swedish oat-milk manufacturer, is perhaps the best example of this tactic, as the advert above demonstrates only too well.
As the debate about climate change and the environment takes on an increasingly alarmist tone, commentators with links to government are already suggesting meat taxes and that governments will have to find ways to "force people to eat less red meat."
The UK government's National Food Strategy, a government investigation into the future of food in the UK, recently reported that algae and plant-based meat would have to make up a significant proportion of people's diets in the UK if the government is to meet its carbon targets.
Study finds that 73% of Aussie men would rather lose ten years off their life than give up meat




From a survey of 1000 Australians, it was discovered that almost three-quarters of the men polled would rather shave off 10 years from their life than give up meat.

A non-profit organization, No Meat May, questioned the men on their attitudes towards meat — and apparently were surprised by the results.

Men were revealed to be less willing to try plant-based alternatives than women as 90% of the previous survey conducted were women.

Women, overall, were more open-minded to other options.

It was also revealed that 47% of participants considered eating meat as a "masculine undertaking" in addition to the initial findings.

Click here to read more about this study which won't do anything to shatter stereotypes about Aussies!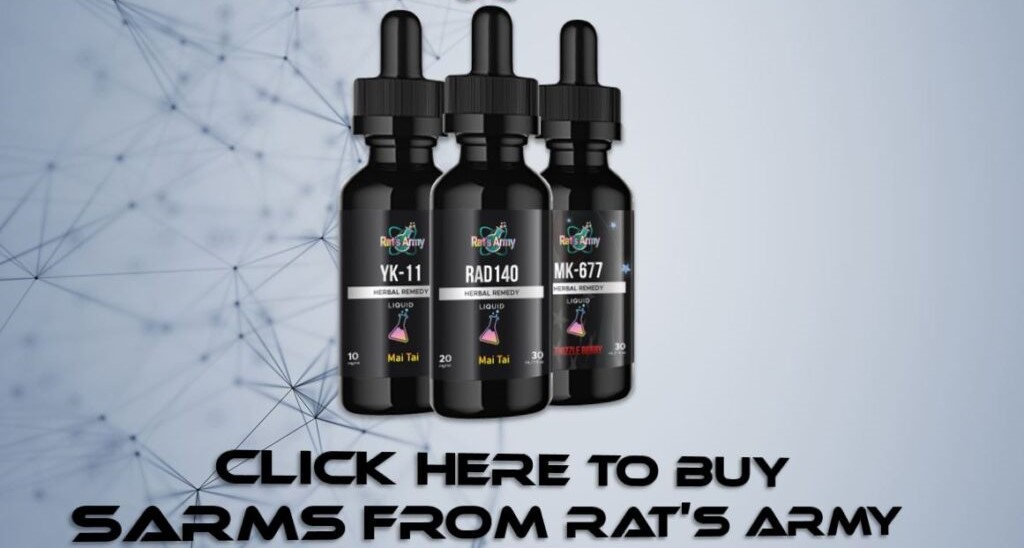 Don't hesitate to email us at [email protected] for personalized coaching and a client questionnaire if you'd like DEDICATED tailor-made personal training on strength training, building muscle, losing fat, developing athleticism, and more — all to your liking, lifestyle, habits, and taste!
Otherwise, don't forget to claim your FREE eBook detailing how to lose 20lb of fat while building muscle in 12 weeks! You can claim it here.
Alternatively, you can pick up a FREE eBook on fundamental strength principles offering an introductory workout program.