After the failure of his comeback at the 2020 Mr Olympia, after two years away from the competition, Phil Heath has now hinted that he may retire from competition altogether.
Heading in to the competition, there was no doubt that Heath was one of the greatest of all time, with seven wins in total, but he was clearly looking to go even further by securing an eighth win, which would have tied him with Ronnie Coleman and Lee Haney for the most Olympia wins of all time.
Heath had massive momentum behind him, and a documentary was made about his preparations for the contest, produced by Dwayne Johnson and Dany Garcia.
Phil Heath's Possible Retirement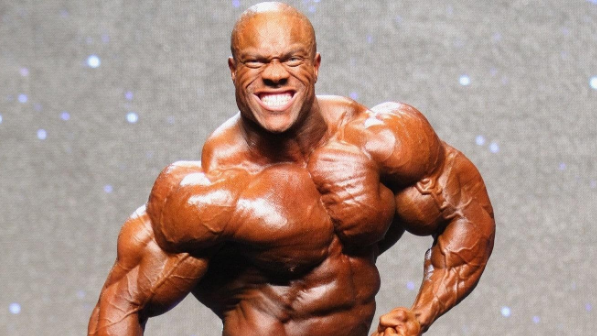 In a controversial result, Heath finished in third place, with Brandon Curry in second place and Big Ramy in first.
Mr. Olympia LLC (@mrolympiallc) • Instagram photos and videos
Watch Phil Heath's 2020 posing routine
Now, in an Instagram post, Heath appeared to confirm what many fans had suspected he would do after the loss: retire.
"You're ready. A new chapter has been hovering over you for a long period of time, the door you've been looking for will finally be revealed. You won't be waiting much longer now; the Universe is eager to show you the blessings it has made for you.
You're in the final stretch of another transformative chapter, smile knowing it's all coming to a peaceful end. The lessons you needed to learn are now engrained permanently in your mind. The habits you needed to kick are now a memory of your past. The energies you needed to let go of have been released from your mind, heart, and spirit. These final moments, before you ascend, requires the utmost faith, patience, and humility from your soul. What's waiting on the other side of that door for you is beyond anything you've every visualized. Prepare to be amazed; the warrior in you has earned its divine surprise."
Of course, this isn't a direct admission of retirement, but given the stage Heath's career is at, it's hard to interpret such a detailed statement in any other way.
Larry Scott winning the 1965 Mr Olympia
Since the creation of the Mr Olympia competition by the Weider brothers in 1965, only 16 men have won the greatest title in bodybuilding. The first winner was Larry Scott, who won the first two titles back to back before retiring. Among the most notable winners are Arnold Schwarzenegger, Lee Haney, Dorian Yates, Ronnie Coleman, Jay Cutler and of course Phil Heath.
Don't hesitate to email us at [email protected] for personalized coaching and a client questionnaire if you'd like DEDICATED tailor-made personal training on strength training, building muscle, losing fat, developing athleticism, and more — all to your liking, lifestyle, habits, and taste!
Otherwise, don't forget to claim your FREE eBook detailing how to lose 20lb of fat while building muscle in 12 weeks! You can claim it here.
Alternatively, you can pick up a FREE eBook on fundamental strength principles offering an introductory workout program.